March 21, 2023 CLE
March 21 @ 12:00 pm

-

1:30 pm
Please join us for our return to in-person CLEs at Collins Irish Pub & Grill, located 2 N. Leroux St.
Topic: Rule 404 – What is it good for?
Rule 404 is perceived as an area fraught with peril, yet once decoded and demystified, Arizona law in this area provides clear and defensible boundaries for the admission of "other act" evidence. Whether you file or fight these motions, you will benefit from this detailed discussion of Rule 404. At a minimum, you will never make the mistake of saying  "prior bad act" again!
Michael Tunik and Jonathan Mosher with Coconino County Attorney's Office will be presenting this CLE.
Time: March 21, 2023 12:00 PM Arizona
RSVPs are required to attend. Please RSVP by completing the following form:
https://forms.gle/BqjS1igAyC8FwGt49
The lunch options are as follows:
RSVPs are due by March 13, 2023. 
A description of the menu options are as follows: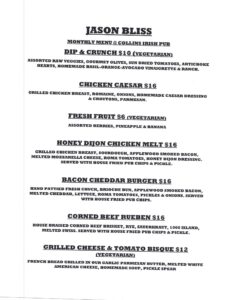 You must provide payment by check or money order in advance for your meal selection to the CCBA treasurer, MJ Vuinovich, at the following address:
MJ Vuinovich, Treasurer
702 N. Beaver St.,
Flagstaff, AZ 86001
Please direct questions to: [email protected]
Thank you!